There was much excitement in the house over the weekend. Our new (new to us) dog came home with us on Friday, and he's already entertaining us with his silliness. Say hi, Baxter!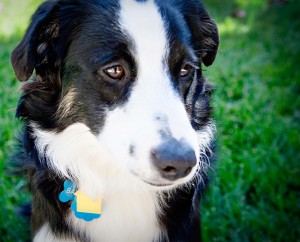 I'll never forget one of my first dogs, a Shetland Sheepdog named Heidi. She was a best buddy to us kids, but no amount of exercise seemed to save her from trouble. She was a little thief who liked to chew up our toys and shoes. Once, my mother had to write a note to my teacher explaining that Heidi really did eat my homework.
Out of all of Heidi's crazy antics, this one is perhaps the most memorable: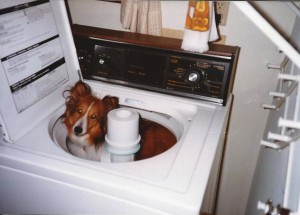 To this day, we still don't know how that happened. Heidi's unfortunate mishap with dirty laundry is detailed in DO NOT MACHINE WASH. It's one of the stories that appears in CHICKEN SOUP FOR THE SOUL: I CAN'T BELIEVE MY DOG DID THAT!, which releases today. Look for it at Barnes and Noble, Amazon, and Powells.
To celebrate the release day, I'm giving away a free copy. To enter, just comment below and tell me about a crazy pet you know. I'll pick a winner this Friday at 5 PM EST. (Sorry, US only.)